Design Writers in SF We Follow


Design-hunters, when it comes to leaving our well-curated nests and venturing out into the world, we are looking for ambiance. We are always searching for new restaurants with gram-able tableware, hotels hiding treasure troves of local art, and coffee shops with luxe lighting. Then we want to know more about the inspiration behind each piece. But—out of all the reviews, blogs, articles, and top 10 lists out there—most posts focus on the food, the amenities, the beans… It's rare to find an article that reveals an amazing space and demystifies the design details. So we're here to shout out some kudos to two writers who have revealed unique design elements in our favorite local spaces. They are so good at finding these details that we sometimes wonder, how do they do it? Is it their design-curiosity, charisma, or a lifetime of being in-the-know…
"The 196-room Hotel Zeppelin pays tribute to the city's counterculture history with vinyl record players, midcentury lamps, and psychedelic wallpaper inscribed with the names of famous bands. Graffiti artists Color Cartel's lobby bar art is illuminated by blacklight, while the gin bottle-filled metal cage is a throwback to the speakeasy that once inhabited the space. Set in a neoclassical SoMa building, Hotel Zetta's eco-consciousness is revealed in salvaged materials and artworks, including portraits made of repurposed floppy discs and chandeliers crafted with recycled eyeglasses. The 116 rooms are appointed with modular butcher-block desks and Cheng Meng sofas."
She's not just contributing to one publication though— check out her posts in Dwell too like "A House Worthy of James Bond and More." Hats off to Jordan for her research, style, and storytelling!
"Alter's mother, a former seamstress, cut and sewed the restaurant's curtains, napkins, and leather coasters. 'After bwork, she would make napkins every day,' said Alter. 'She and my stepdad would be cutting and sewing at home, and it made them feel like part of the restaurant. We now hand-wash those napkins every day.' "
If you've ever tried to find out who's behind your favorite restaurants— like who created the tableware at
The-Progress
or how to get the same sconces as
Café Gratitude (Larchmont)
—you know these design details aren't easy to get to. We are always excited to find out these stories and grateful that Meredith is sharing them!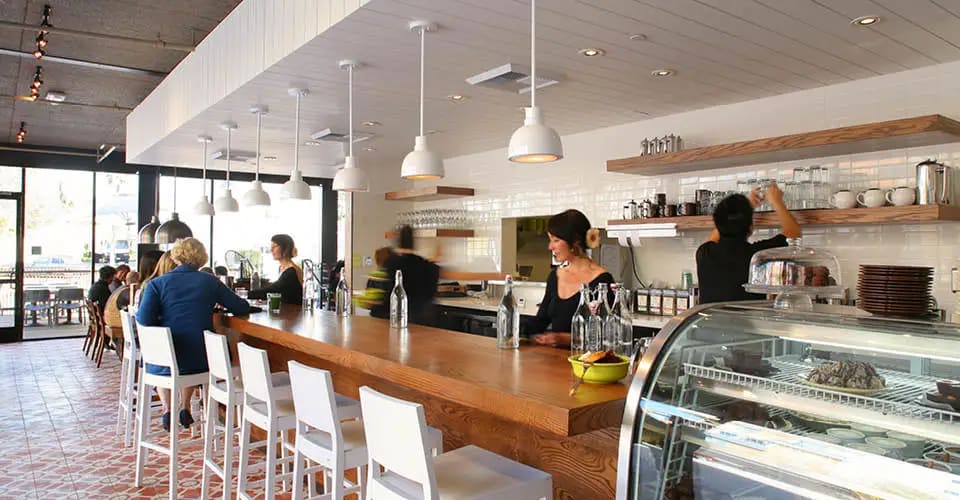 Psst, Workstead we hear your nude leather Sling Chair is on her wishlist!
Who are you following? We'd love to know!
Message or email us your favorite writers, bloggers, editors and publications: social@wescover.com