4 Artists Behind SF's Michelin Star Tableware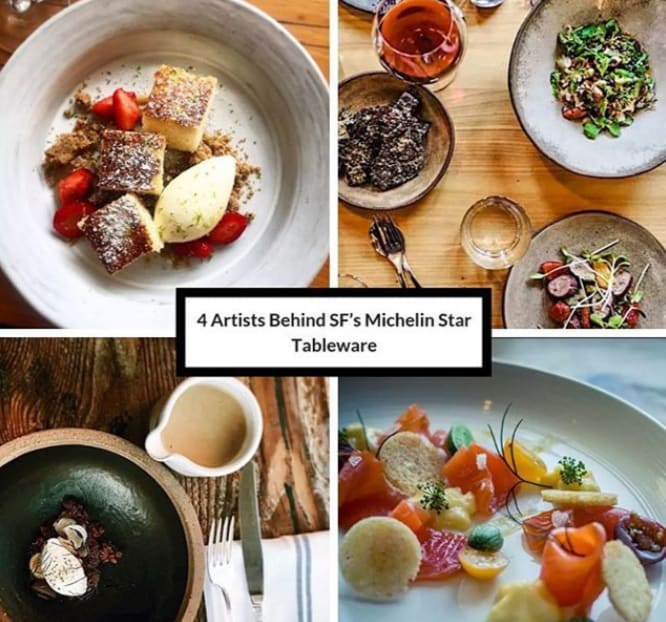 Progress Restaurant Collection Plates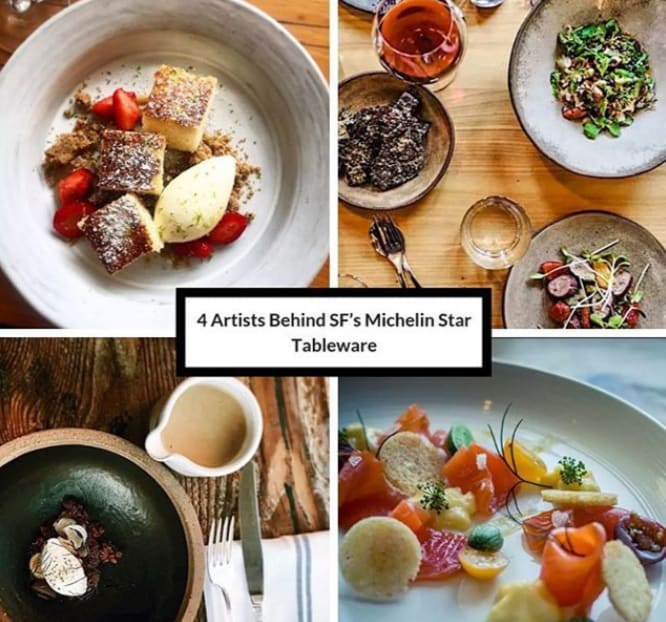 You've probably heard of farm-to-table but there's a trend at local restaurants that you may not have noticed. Michelin star restaurants like Otium and The Progress are using dishes made by local potters. And, just like using the right tool, chefs know that hearty handcrafted tableware makes a big difference for any eating experience.
For a ceramicist, landing a Michelin-star commission is like getting your big break in Hollywood. Once you're in, the pieces are used by celebrities, design-lovers, and writers on a daily basis. So if you're lucky enough to land one of these commissions, you're more likely to make it as a full-time artist. We spoke to 4 artists who've gotten their work into restaurants— from a former footwear designer to an "International Clayboy." Here's what we discovered…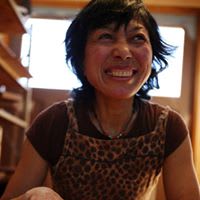 The art of Akiko Graham is somewhat of a staple at Michelin-star rated restaurants among the likes of Lark Seattle, Willows Inn, Coi SF, Frances SF and of course many others. With a clientele so highly regarded and an enviable repertoire, it's safe to assume Akiko Graham is a coveted artist in the restaurant world. But as the story goes, it wasn't without hard work, sweat, and wheels (ceramic wheels that is) that her status as an established artist emerged. She began by taking community night classes at a Seattle high school. by 1993 she was selling to local restaurants, later she drove down to San Francisco to sell her wares.
"It took me 10 years to get into restaurants because lots of people at the time were using white plates. I just went with my husband and my samples to San Francisco… that was the only way in."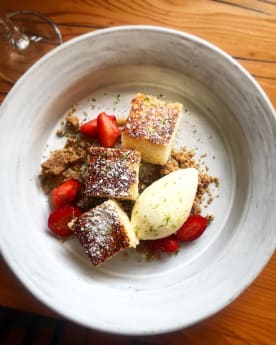 Clay-wares weren't in vogue until recently. Restaurants wanted to fit the typical Michelin style: White tablecloths, polished silver, and pristine white plates to make their dishes pop. A solid decade later, Akiko can't make enough pottery for all her clients. From seeing her works in beloved restaurants chefs and diners alike call Akiko in hopes of owning some of her pieces. Akiko's work focuses on bowls and plates that fit a certain aesthetic, "I went to places a couple of times. Even if they didn't buy, I would still go by to say hi until eventually, they used my pottery" she notes.
To her, this was a key factor in the rise in popularity of pottery in the US. Akiko makes her pieces from a special clay custom made for her in Tacoma, Akiko Black Clay. Sometimes she makes certain shapes that she likes and those are influenced by Japanese style- like Katakuchi bowls for instance. Katakuchi meaning one side one mouth pour bowls. Some restaurants ask for specific things but she already has her own aesthetic. "I think now pottery is like people, I don't know many potters personally but if I see an item I know who made it."
Akiko has her own style, she uses custom clay to make plates and bowls that are made for daily use. She noticed that people use her pottery at home now too. "People can always tell it's mine. Maybe related to investing so much of myself in my work… like this person is part of this pottery" says Akiko.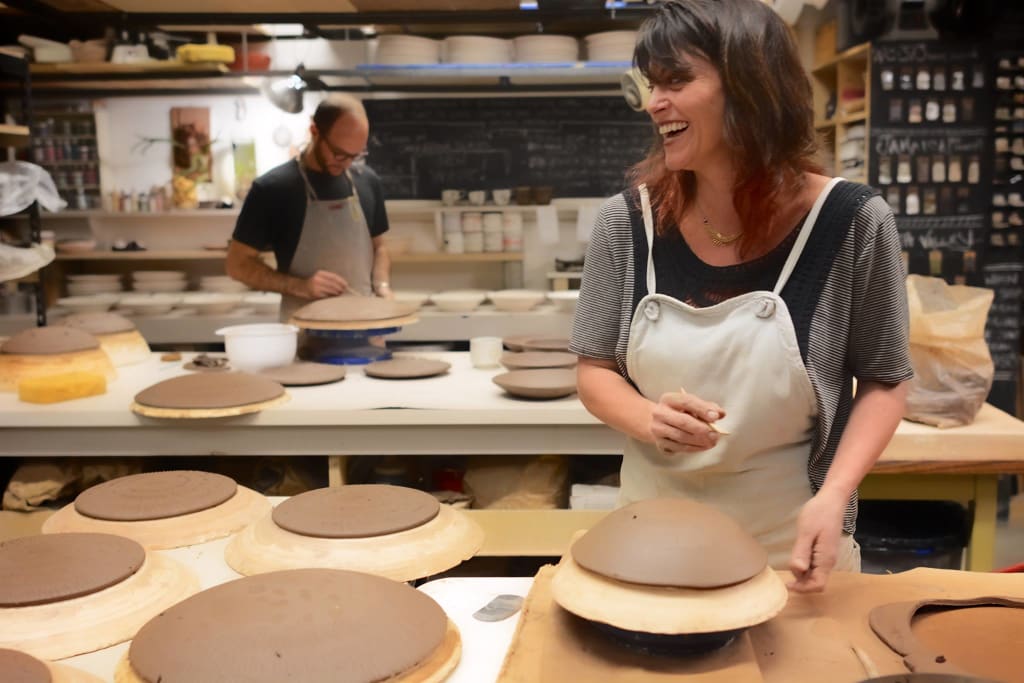 Mary Mar Keenan is a ceramic artist that has also left her mark in the San Francisco dining scene. With her tableware appearing in top-tier restaurants like Nightbird and Single Thread Farms, her work is becoming a sought-after design in fine dining. Despite making pottery for 20 years, it was through her collaboration with chefs that she began to design with food in mind.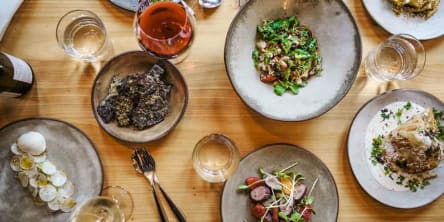 "People are getting away from white pottery everywhere. They sit very quietly by itself, that brown halo pops once there's food on the plate… When I started designing pottery with food in mind it changed everything."
Mary's clay-based and wheel-thrown pieces break away from the traditional white glazes. Their earthy tones embody the natural qualities of the food they contain, reminding one of the story and roots behind every ingredient. Hand-made pottery also has a soothing impact on the high-paced restaurant dynamic. "Handmade pottery in your restaurant makes you slow down—servers don't stack them or pile them because they need to last longer. And the slowing down of handling them actually is a good thing."
Not surprisingly, working with chefs has opened Mary up to explore new possibilities. Kim Alter from Nightbird encouraged her to create a broken plate design that ended up being a great success despite her initial doubts. Mary produces her own glazes in small batches at very specific temperatures and conditions, which means that no two glazes are alike. The seven glazes that she offers make it possible for clients to customize sets and be part of the creative process.
While she dabbles in various forms, Mary is particularly drawn to designs that exceed a mere utilitarian value.  "Cups are some of the most intimate objects in our lives. The cup you choose is dependent on your mood or what you're drinking. So I love making cups. Whether they're handless big or just feel good in your hand. Bucket cups hold a large cup of tea. Pinch pot espresso cups feel lovely in the hand. I wish people understood the amount of work that went into cups because it's labor intensive…" Despite the work that goes into them, Mary says that she wants I want them to be sellable and usable, "I don't want people to not use it because it's too precious."
There is definitely a beauty to the relationships built through our daily use of these forms. Thank you, Mary Mar Keenan, for showing us that objects we see as commonplace can also be a work of art, both beautiful and intimate.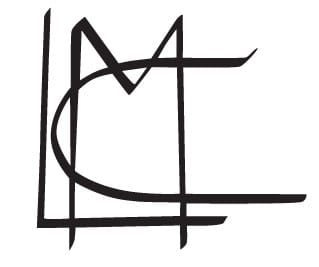 Len Carella is a stoneware and porcelain artist whose heirloom designs strive to survive the passage of time. Initially a footwear and leather goods designer, Len Carella decided to change course midway through his career and study ceramics at Parson's School of Design in New York in 1998. Given how things are panning out, it's safe to say he has no regrets. You can find his tableware in Octavia, where it adds a serene backdrop to beautifully crafted meals.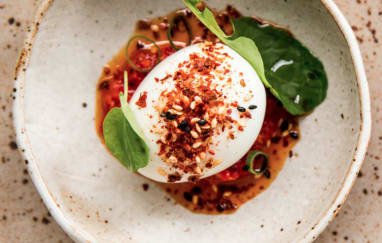 "All of my work is 'high-fired' ceramics which gives the clay and glazes a very deep and rich look not found at lower temperatures. I also strive to design and create timeless works to be coveted and enjoyed forever and passed down to future generations."
Len's contemporary designs range from a neutral-toned minimalism to petal patterned serving platters with rich and deep glazes. Instead of concentrating on one material, Len merges stone or porcelain with leather, braided threads, and cork details. His work also seeks to inspire a long-lasting relationship between material goods and the people that use them. "I'm trying to make heirloom pieces that you buy, keep and use forever and pass down. I'm not a fan of the disposable economy. Buy and use much fewer things of higher quality. Things shouldn't' fill a void" says Len.
You can also find Len's pieces in his own home: from big serving platters to square, oval, or smaller round bowls. A meal, its flavors, and presentations are all equally important to him. Every detail enhances the experience and every piece of silverware has a purpose. Len shows us that high-quality pieces have the potential to provide an experience for generations.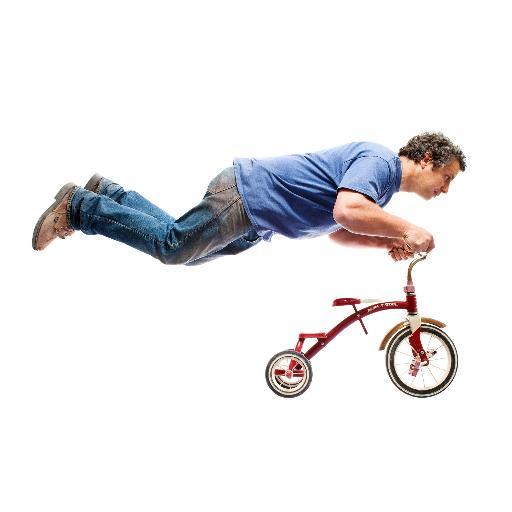 Jered's Pottery is a California-based company that has created dinnerware for restaurants such as Namu Gaji and Bad Habit. Despite his success, Jered Nelson spent many years away from the pottery world, working in the Navy before completing a degree in ceramics in Minnesota. He would later fund his pottery habit with odd jobs in grain elevators, stockyards, and rodeos. His journey was indeed a long one, but his experience has shaped and honed the masterpieces that he creates today.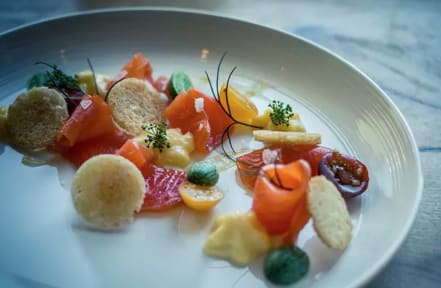 Jered and his talented crew make tableware that is modern and versatile. They work primarily with California clay, whose high aluminum content provides a cream white finishing. His sets change with every project, sometimes having a smooth matte tone or a delicate shine. Most of the subtle details of his work are inspired by his fascination with how people interact with ordinary objects "—a lip to a cup, a hand on a bowl." Through keen observation, he tries to strike a balance between durability and the weight of the pieces, seeking a beauty that doesn't come at the expense of function.
Jered has a ton of experience and, through his years of working with chefs, he has learned how to create ceramics that compliment the entire experience for both chefs, wait staff, and diners. His work also caters to new trends in plating and food photography.
"There's a lot about the function that you learn over time from listening to people. Intricacies about how a high-end restaurant will serve and remove from the table. They need a certain amount of lift in plates and bowls when they pick up and put it down. As you're playing with the design you have to keep a few things in mind."
Chefs are artists, and merging hand-crafted tableware with the dining experience is an art as well. One of the things chefs love about Jered is that he doesn't compete with the food. "My ethos is if you're going to do the work you should use the best ingredients."
Jered has honed a keen eye for what designs work best with specific dishes. He recommends going to Coqueta or Bolota if you're into Spanish or Italian meals. "If they're into everyday stuff that looks good they can use that's functional, quiet and beautiful I'd say Rich Table or Nico's bistro." It's safe to say there's no shortage of places where you can find Jered's beautiful designs.
Across the Map…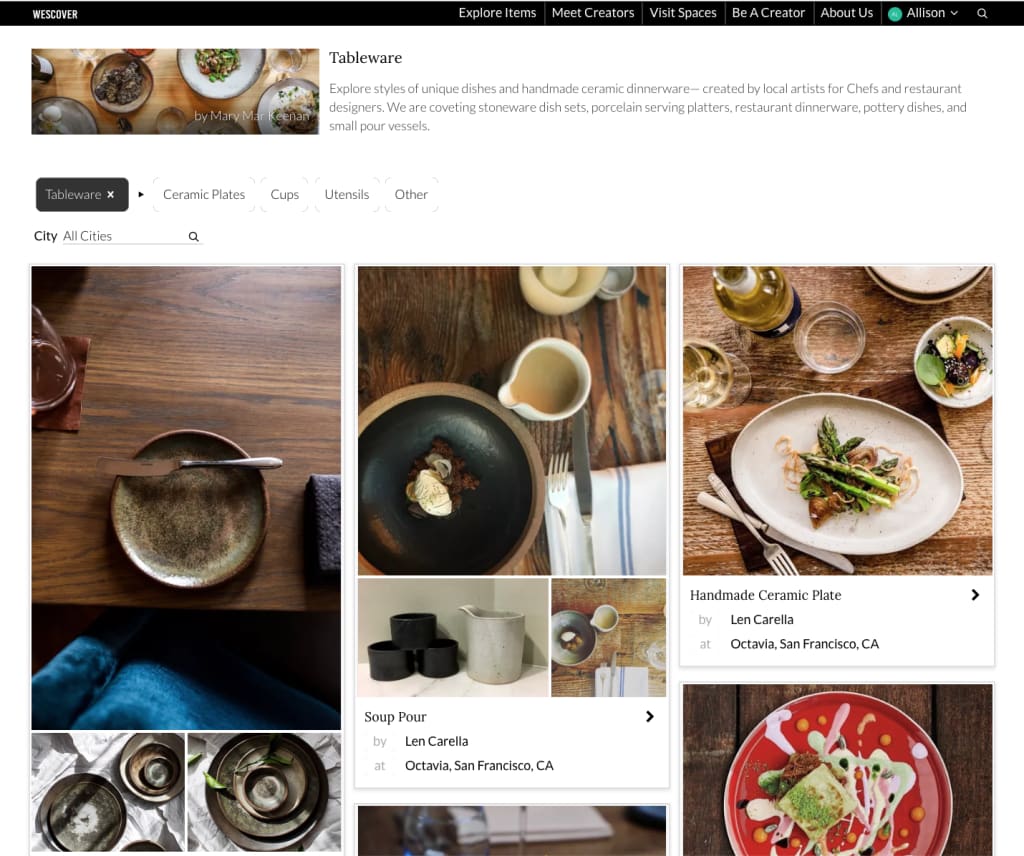 Here at Wescover we are so excited to learn how these individual ceramicists and Creator communities are thriving. See more unique tableware and, especially if you're creating a new space, take a moment to explore your local ceramicists!