Inside 10 Well-Designed Restaurants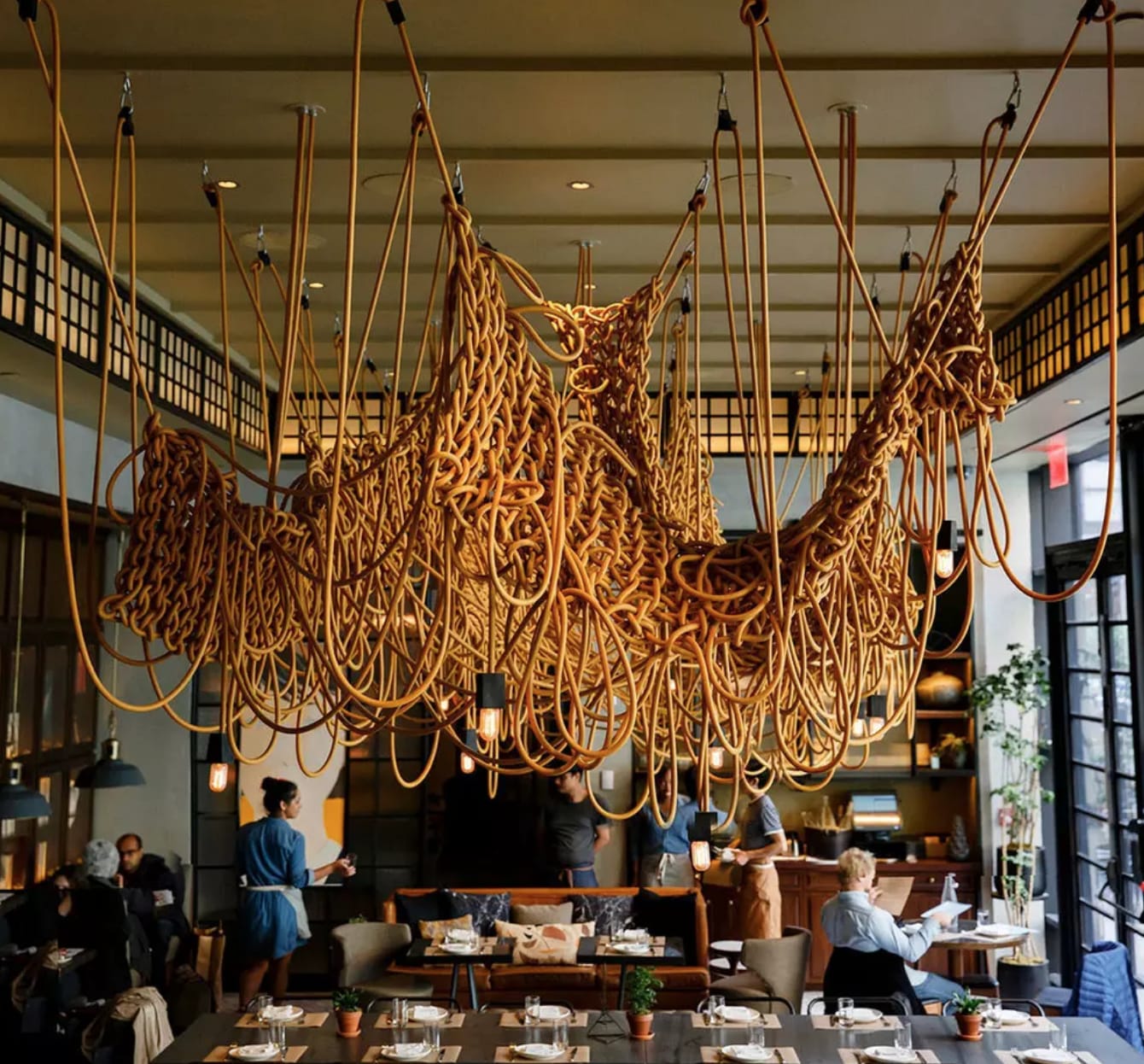 While museums and showrooms are designated design-destinations, we find that the most inspiring places to discover new designs are restaurants. Popular elements in restaurant designs today are inspiring the interior designs of 2019. We're spotting some recurring design elements like light woods, interior murals, custom chairs, and bright tiles. While there are some general trends, it's incredible how local artists have given their own spin on modern trends to create incredibly unique spaces!
Here are 10 of our favorite restaurants and the Creators behind their designs:
Designed by interior firm Creme, the Vine has a welcoming environment for working, playing, eating, and drinking. Its interconnected rooms feature an eclectic collection of objects and furniture sourced by "We Came in Peace" as well as an impressive contemporary art collection created by Kyle Dewoody. When it comes to dining, the Vine features an all-day menu by Laurent Tourondel featuring American food with Italian influences. The bar serves a changing selection of craft cocktails, local beer, and wines.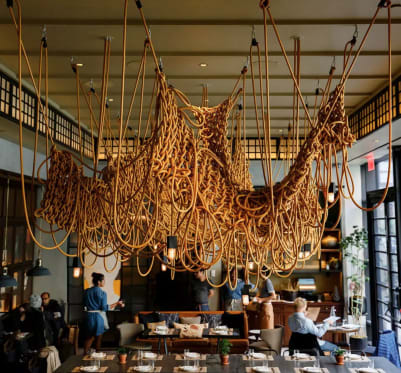 Formerly called Oliverio, the recently rebranded restaurant got an artful update from celebrated designer Kelly Wearstler. The new look embraces a revival of mid-century California style with an authentic collection of vintage furniture hand-selected from around the world. Handcrafted oak tables, wood-brass dining chairs, and gilded lounge chairs are all part of the new look. And a sumptuous palette of deep and turquoise blues, gold, ivory, and neutral tones in an array of materials and patterns, provides a sexy, subtle atmosphere throughout.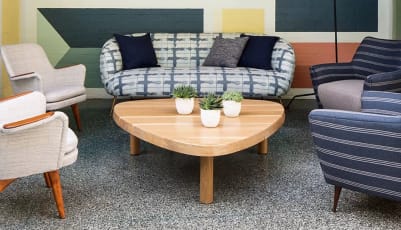 Seafood is a staple of most port towns and our chefs are the food "smiths" and craftsmen elevating one of nature's greatest gifts to man. When working with truly great seafood, we believe in the "less is more" approach. Sometimes the best ingredient is the one left off the plate. With gorgeous and simple design, Portsmith has created a look that matches its food with elements of the sea, ocean, and water everywhere.

Agern, meaning "Acorn" in Danish, is a season-driven restaurant and bar, located at Grand Central Terminal. The menu, from the hands of Icelandic head chef Gunnar Gíslason and his team, features farmed and wild ingredients from the New York State region exposed to time-honored techniques, and flavors rooted in Nordic Cuisine. The restaurant's design reflects its food: humble and warm with brown, earthy tones that remind you of home.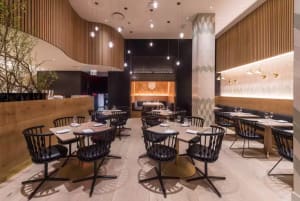 Located on the ground floor of San Francisco's Museum of Modern Art, In Situ is an exhibition restaurant and collaborative project featuring chefs from around the globe. Chef Corey Lee invited ninety world renown chefs (including his mentor Thomas Keller, and chefs like Daniel Boulud and Alice Waters) to contribute a signature dish to the menu. The dishes are part of a daily rotating menu, and Lee views them as an extension of the museum's mission, to present great works of art and make them accessible for greater public appreciation. The design showcases how food can be taken out of context to have an entirely new appeal.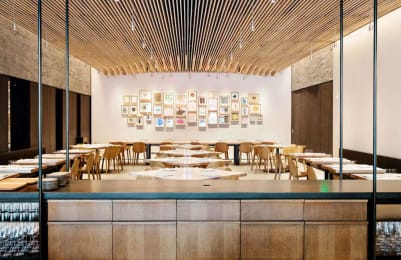 L'Amico NYC, located in the Eventi Hotel, has an Italian-influenced menu and a modern-rustic setting. The kitchen, visible throughout the dining room as well as to passersby on Sixth Avenue, has a life of its own in the space. The restaurant's menu harkens back to chef Tourondel's memories of long Sunday suppers with his maternal, Italian grandmother, filled with memories of freshly flowing produce from his family's garden that cultivated his own love for simply prepared dishes and precise techniques.
Café Gratitude is a collection of 100% organic plant-based restaurants specializing in gourmet cuisines. Their business practice supports local farmers, sustainable agriculture and environmentally friendly products, and is based on a term they call "Sacred Commerce," where they provide inspired service, honest and transparent communication, and express gratitude for the richness of our lives. The design at each location is entirely unique but we love that they use the works of local Creators!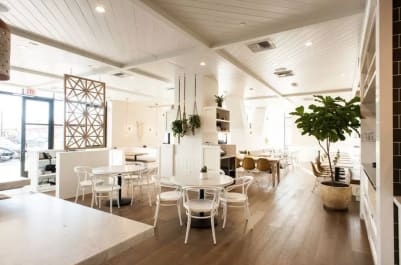 Owners of State Bird Provisions, Nicole Krasinski and Stuart Brioza, put together an urban-rustic storefront setting with an airy, organic vibe. The menu features a rotating, highly seasonal and local menu of American small plates served dim-sum style. The combination has worked out quite well, as State Bird quickly garnered a Michelin star within a year of opening and Krasinski and Brioza won the 2015 James Beard award for Best West Coast Chef. With modern design elements, restaurant-goers know as soon as they step into this restaurant, that the food will be eccentric, unique, and extraordinary.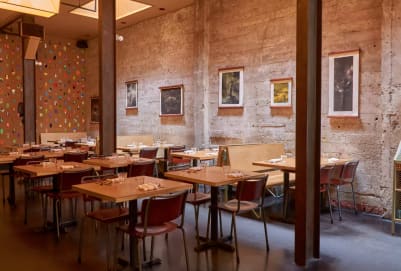 Designed by Roman and Williams, the atmosphere of this acclaimed restaurant is sleek and approachable. Pewtered-steel chandeliers gorgeously offset the concrete and brick-framed confines. There's a nice open kitchen, and the 80 or so seats all have great views, with the arcade set off from the main room by mullioned windows. Chef Rose pays tribute to classic French technique and dishes so you won't find a lot of high-concept, interpretive cooking, just much-beloved standards guided by his expert personal vision.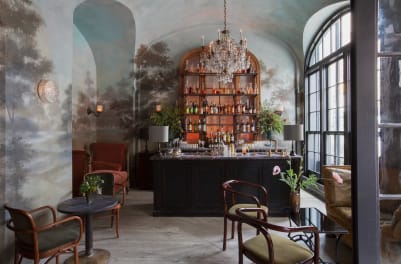 Octavia comes from award-winning chef Melissa Perello. Beautifully defined flavors and seasonally driven cuisine are the cornerstones of Octavia's menu, all in an elegant yet relaxed neighborhood setting. Chef Perello's daily evolving selections spotlight her commitment to sustainability and the Bay Area's wealth of agricultural resources. In the early evening, the restaurant is aglow with the bay's golden light, complementing the gorgeous and understated decor designed by Michael Baushke of Apparatus Architecture with a palette of beiges, charcoals and eggshell-inspired schemes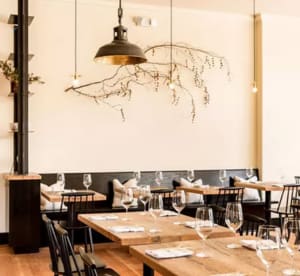 From the moment we walk through the doors to the moment we leave, each detail creates a full experience. An amazing interior adds dimension to the cuisine, inspires conversation, and brings us back for more.  We hope you enjoy exploring their designs and the individual Creators who worked on every space!