Stella Maria Baer: Quotable Creator of the Week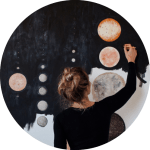 Stella Maria Baer
Creator in Denver, CO, United States
Desert Moon and Mammoth Moon by Stella Maria Baer. Featured on Wescover.
" For the past few years my work has been inspired by a sense of feeling at home in a place that looks like another world."
"In painting moons and planets, I bleed out my memory of growing up in the desert."
" I love working with the paint pigments I make myself from desert sands.  I love seeing a landscape not just inspire a piece but physically become part of a painting."
" I try not to have expectations for what people will think when they interact with my work.  The stories people send me about how they feel about my paintings are always more interesting than anything I could predict or intend."
See more of Stella's Paintings >
---
Dear Stella,
You bring the cosmos down to earth and lead our imaginations across Martian deserts. We love how you capture these great landscapes in your photos and paintings. It was especially cool to learn that you make your own paints from the nature-scapes you're capturing— how meta!  We hope to learn more about your process and see your strokes across the globe.
Thank you for sharing your work with us!
— Allison, Noel, & the whole Wescover Team
---
Follow her on Wescover and Instagram. 
What do you love about her works? Send us a note and we'll tell Stella!
social@wescover.com
---