Dripping with Honey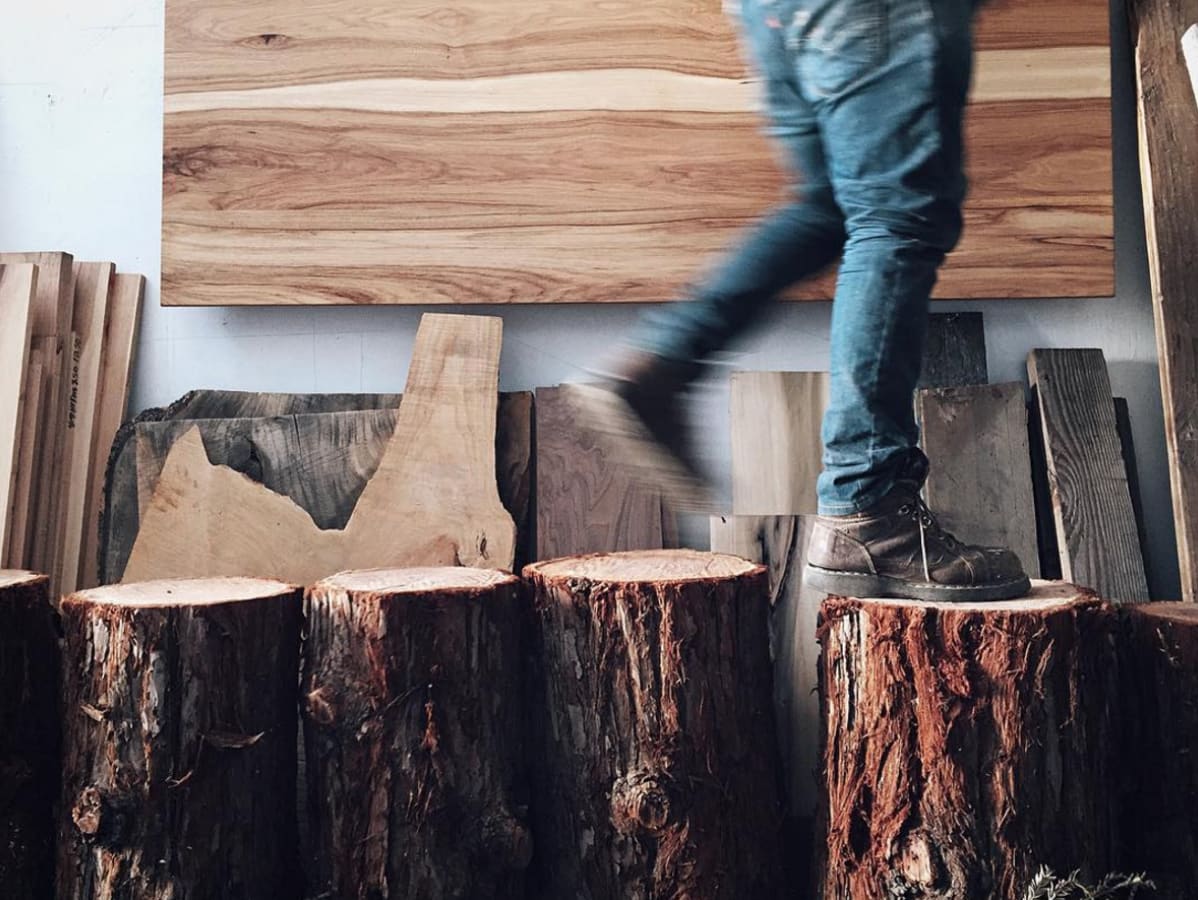 Brandon Monk Muñoz a.k.a. Monkwood, artist and furniture maker based in Fullerton, California. Featured on Wescover.
When you think of a Poplar Tree you often think of the history these trees must have dreaded to carry. That same sense of openness and story-telling comes with the Suntan Poplar. Brandon Monkwood Muñoz is an artist, a dad and a through-and-through a soulful innovator that put the Suntan Poplar on the map. Now I'm not what you'd consider a romantic. I don't give hugs, I hate kisses and holding hands seems so repugnant, but I can't help but muse at the objects that Brandon crafts.
Visit Monkwood on Wescover.com
On a phone interview to find out a bit more about where his work lives, I fell in love with Brandon's process. He spoke of the way in which he chose the wood, cured it and why it made a difference. It's clear this person makes lasting art and like they say out in the world, art is supposed to make you feel something. With a single glance the poplar in its dripping honey colour traps your eyes. It has never-ending waves that both keep you mesmerised and make you want to jump into an ocean. To be frank, these pieces look more like music than anything -and in fact are favoured by musicians and film artists. According to Muñoz, the wood is looked down upon for not being a typical luxury. It's thought to be lowly because it's more impressionable than most, but that's where the populists fail. Brandon believes in wabisabi — the Japanese concept of acceptance of chaos and imperfection. He looks at the the wood as a way to preserve history and exemplify unity through crafting with several pieces an object that looks like a single piece. The Suntan Poplar is named after its tanning process, tanning in the sun. Muñoz dreads the storms that have been plaguing the season, though he is happy California is no longer in a drought. He lives in Southern California where the sun is his partner and occasionally his daughters will help him craft and innovate in the shop. Brandon is developing a glaze that maintains the integrity of the wood while allowing it to keep the marks of the years, he wants the owners and future owners to be able to tell stories but to also to pass down such unique furniture.
Perhaps more intriguing than the material is the life that led Brandon to establishing himself as a woodworker. In his early 20s, Brandon went to Art School. He eventually moved to London to pursue his passion which at the time was in ministering. Back in London, Camden Town, North London to be exact, Brandon was a Pastor. He was still doing wood work but not nearly as much as he was doing now — which started in full swing once he moved back from England to sunny SoCal. With four children to care for and a harnessed power of woodwork, Brandon shook off the -currently occurring- great recession of 2008 and continued to make furniture with a new purpose.
The history of his work is well perceived through his online presence but arguably mostly through his work. You can expect each piece to have been nurtured and cared for. You can see it in the way the colours pop and the endless waves dance on the surface. It seems like it's one piece although it's not, but that's what Brandon creates: Vessels of Unity.
This story was written by Silver Spence. Silver is secretly a dog in the body of a human. She enjoys sputnik lamps, sci-fi, mid century modern and making dad jokes. She also happens to be head of content and Artist curator at Wescover. Woof at her or send her suggestions at Silver@Wescover.com